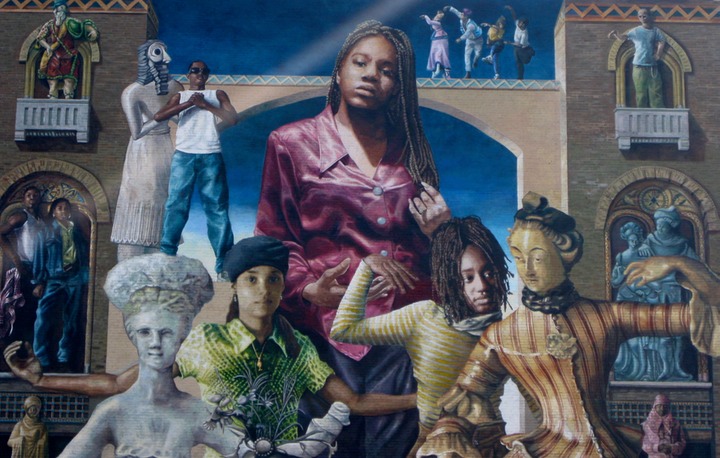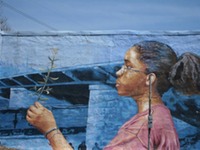 Thanks to the City of Philadelphia's "Mural Arts Program," Philadelphia is truly "The City of Murals." For many years, I'm always amazed by the murals as I've driven around the many neighborhoods and communities throughout the city. During my many years of driving around Philadelphia doing work related home visits, I try to point them out to new physicians and others who aren't from the area. In many of the more impoverished neighborhoods they bring life to an otherwise desolate area. The murals in these areas are treated with respect and pride by the community that they are a part of. There are now over 4,000 murals throughout the city. The 3,000th mural, honoring The Tuskegee Airmen, was officially unveiled on 6/14/09. (I have pictures of that mural on the page:  "West Philly:  Market St and Below.") Relax--I don't have all 4,000 murals here--it may just seem that way.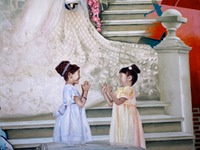 Friends of mine who have been aware of this site for a few years will have noticed that I redesigned it in May 2012. Check out the "Random Thoughts" page for more information about the changes, finding your way around, etc.
All of the pictures of the murals on this site were taken by me. They were initially taken on a whim, while driving around Philadelphia over the course of a few days. After those initial pictures, it became more than a whim and sure took longer than a few days. Rarely do I attempt to take the perfect picture, nor do I try real hard to keep telephone poles, signs, cars, people, etc., out of the picture. (This will come as no surprise to those who know me. I'm not exactly known for my attention to detail.) I just took pictures of them as they were. These are just a few of the many wonderful murals that you can find throughout the city. There are many other great ones that I don't have pictures of--Yet. Some of these pictures are of murals that I'd somehow heard about and went out with the purpose of taking a picture of it. Others are of murals that I just stumbled upon while driving around the neighborhoods.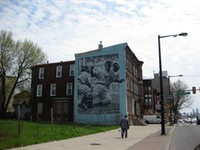 At one point on this page I had listed a few of my "favorite" mural artists. As I began taking pictures for this site, and really developing an appreciation for all of the murals I had seen, I kept adding the names of artists here. Finally, I just added an "About The Artists" page to this site to pay tribute to them all. For some of them I link their names to their website or article that references them. For others, I'm still searching for a page or article related to them. Feel free to send me any info via the "contact" page that I could add about an artist on that page.
For more information about Philadelphia's Mural Arts Program, including how you can arrange take a "mural tour," visit their website at: http://www.muralarts.org.  (You can also support their great work with a donation through their site.) I'd also recommend two books:  Philadelphia Murals And The Stories They Tell, written by Jane Golden, Robin Rice, and Monica Yant Kinney, as well as More Philadelphia Murals And The Stories They Tell, written by Jane Golden, Robin Rice, and Natalie Pompilio. (Jane Golden is also the Executive Director of Philadelphia's Mural Arts Program.)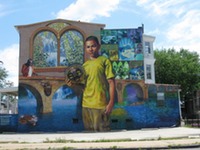 Both of those books, as well as a great site/database which is sadly (to me) no longer active: muralfarm.org were invaluable to me in obtaining the correct title of the mural and the artist to go along with the pictures on this site. In addition, I should note that many of the murals I've taken pictures of, I first discovered by reading the books I mentioned above, or by spending time visiting muralfarm.org. Also, a special thanks to Cathy Harris, Steve Weinik, Amy Johnston and Sara Ansell from The City of Philadelphia Mural Arts Program for helping me identify several of the murals correctly. (The lessons drilled into my head back in grad school about proper citations have clearly stayed with me--even 25+ years later!)
-Rob