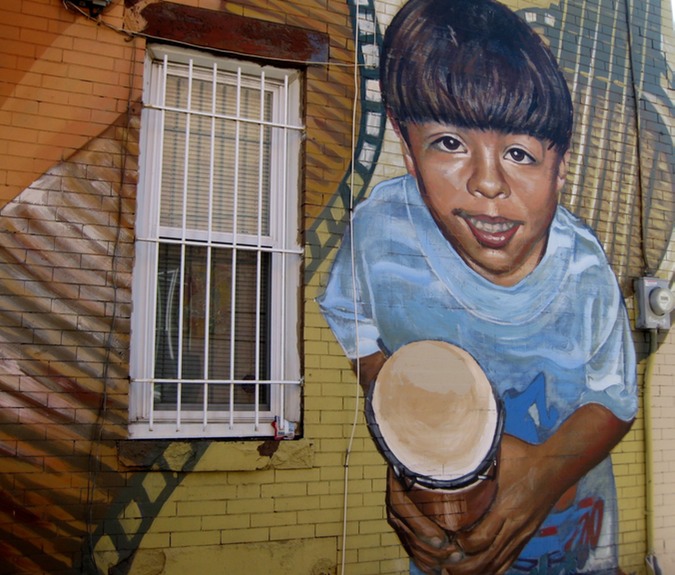 So, when I mentioned on my "Random Thoughts" page that the site is now "...loosely laid out by neighborhoods …"  nowhere is "loosely" more applicable than this page. For a lot of reasons, it spans many different and culturally diverse neighborhoods and communities. But what the heck, for now, I think it kind of works. Due to the large number of murals, I've added a 2nd page for these communities in March 2013.
There are a lot of great murals on this page. A few that I added in July 2012 were discovered totally be accident, as I was on my way to and from one of those murals called "Personal Renaissance" by James Burns. Speaking of Personal Renaissance, it's a great mural with many messages, in addition to great artwork. To learn more about that mural click on the title of the mural in the list below. James Burns does a great deal of work with the Personal Renaissance Project of the Mural Arts Program. The pictures that follow that mural were the ones I didn't know about, but saw them while I was driving around. I was surprised at how many murals are in a relatively small area. (My friend, Marlene mentioned that to me. She was sure right about that. Thanks Marlene!) I hope to get back soon to take pictures of many more of them. (I really wished I'd paid attention when I took Spanish in high school!)
Another mural that I discovered by accident while driving around is actually a "two wall" mural. When I initially saw them, side by side in a vacant lot, I didn't make the connection that they were connected. When I arrived home, I was reading about them--and as I took another look, it made sense. Here's a description of this two wall mural called "Imagination:  The Seed of Change" as described at muralarts.org just prior to the dedication:
Muralists Betsy Casanas and Pedro Ospina drew from their experiences to design this two-wall mural. The first image depicts a neighborhood boy standing in the lot as it was before this project; a makeshift recreation center where, instead of a trampoline, swing set or swimming pool, children played with discarded mattresses, rubber tires and a water pump.  The right wall shows the after image: children connected to the earth, playing in a wholesome, nurturing environment. An older "warrior woman" guards the children and takes care of the space, ensures that it remains safe. ...
-Rob
Murals Shown Below:
La Cancion de mis Recuerdos (The Song of My Memory):  Eric Okdeh. 185 W. Tioga St.

New Fire: Cesar Viveros-Herrera. 223 W. Girard Ave
Personal Renaissance:  James Burns. 4th and Berks
To Mondrian:  Ana Uribe. 5th and Diamond Streets

Stories of the Square:  Henry Bermudez. 2251 N. 2nd Street




Wall of Neighborhood Heroes:  Kimberly Clark. 2239 N. 2nd Street

El Centro de Oro:  Danny Torres assisted by David Morales. 5th St and Lehigh Ave.

Imagination--The Seed of Change:  Betsy Casana and Pedro Ospina. 4th and Somerset Sts.

Together Moving Mountains:  Freddy Sam with the Asian Arts Initiative Classroom Space. 161 W. Cecil B. Moore Ave.


Camilla's Dream:  Students 

from McKinley Elementary School. 5th and Norris Streets
Tropical Landscape--The Rain Forrest. Ana Uribe. 1920 N. 5th Street

Celebrando Nuestra Cultura - Celebrating Our Culture:  Jason Slowik. 5th and Somerset Sts.