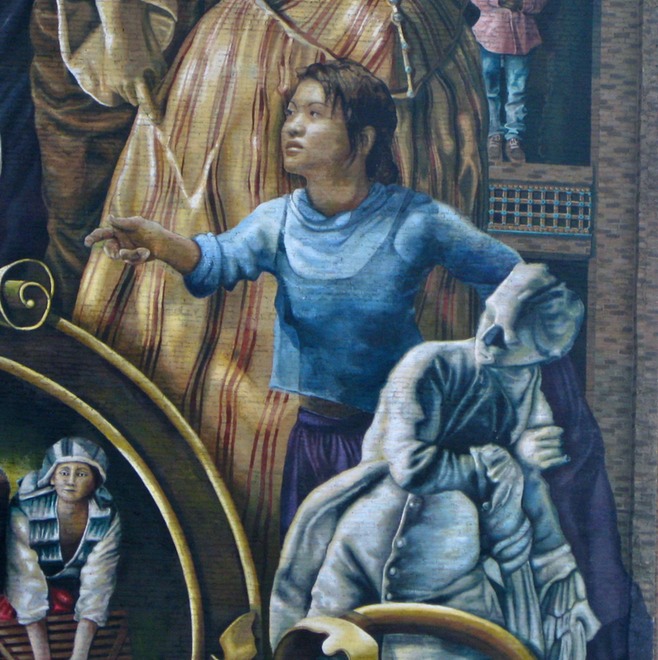 The picture above is from a section of perhaps, the most well known mural in Philadelphia:  "Common Threads" by Meg Saligman. As I mentioned previously on this site, it was the first mural I ever took a picture of. While I had seen it before, one night while driving east on Spring Garden Street, the view of that mural caught my attention so much so that I pulled over just to get a better look at it. I always loved that mural. A couple of years later when I finally bought a new camera, I drove to Broad and Spring Garden to take "a couple of pictures." When I got  home and saw how great it looked on my computer, I was blown away. I went out and took pictures of a couple of other murals that I liked. Things kind of took off from there, and here I am with this site today. To be honest, all I really planned to do was to fool around with my new camera and to see how well the zoom lens would work. (This was my first digital camera, not including cell phone cameras. As I often tell people--I'm far from a photographer.)
Common Threads was first painted in 1998. Over the years, it had faded badly. I do believe that there was some discussion of tearing down the building that this mural is on. There was a campaign to raise funds to restore this mural. The restoration was completed in October 2011.
You can see the difference in several of the pictures below. The first picture was taken in 2009. The next several were taken after the restoration was finished.
-Rob
Murals Shown Below:
Common Threads:  Tribute To Philadelphia's Youth:  Meg Saligman. Broad & Spring Garden Streets
Pedal Through:  Paul Santoleri. 200 Spring Garden Street
The Value of Family:  Eric Okdeh. 5th & Spring Garden Streets
Building America:  German-American Contributions:  Michael Webb. 605 Spring Garden Street
Memories of My Life:  Frito Bastien. 1031-33 Spring Garden Street
In The Shadow of the Wood:  Paul Santoleri. 3rd & Spring Garden Streets
Stronger Together:  Cesar Viveros (Assisted by Lynwood Ray and Efrain Viveros-Herrera). 1924 Spring Garden Street.
Click on the thumbnails to start the slideshow: