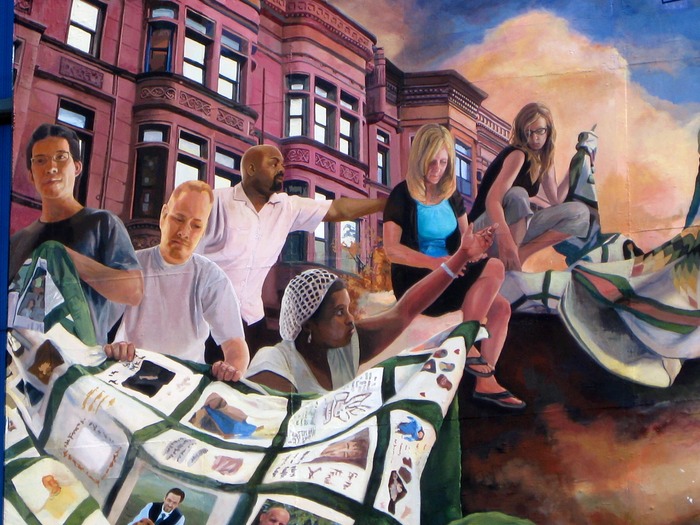 As my interest in Philadelphia's Mural Arts Program has grown, so has my awareness of murals that are being developed or soon to be dedicated. I read some time ago that a new mural was about to be unveiled that would seek to bring attention to, and raise awareness about, a topic that is rarely discussed--but needs to be. The tragedy of suicide--particularly involving youth. I was aware that the dedication for Finding The Light Within was to be held on Saturday, 9/15/12. 
From the Philadelphia Mural Arts Program website describing the mural, "Finding The Light Within":
...Finding the Light Within, a new mural project in progress by muralist James Burns, sheds a light on youth suicide by providing a voice for survivors, attempters, and their families and friends by creating a new community around this issue. Through this project, we hope to educate the public about warning signs of suicidal behavior and how to seek help for loved ones before there is a loss of life.

To create the foundation for the mural project, a series of community meetings and two distinct workshop series to engage a broad range of participants were held. Poet/artist Theodore Harris and psychologist Dr. Terri Erbacher facilitated writing and collage-making workshops at Horizon House (a community resource for adults with psychiatric or developmental disabilities, drug and alcohol addictions, and/or homelessness), which helped start a dialogue amongst participating survivors and attempters of suicide.

Additionally, storytelling workshops for people whose lives have been changed by suicide were directed by Dr. Molly Layton, a writer and psychotherapist who works with First Person Arts. These stories will be read by actors at a performance as part of the First Person Salon series on November 13th at 1:00 p.m. at Christ Church in Old City.

"I am in awe of the strength and courage of these folks to come out and bring this serious issue into the public eye," said Burns. "It is obviously not an easy thing to talk about and I am thankful to know that there are so many people who are willing to come out and get involved in the awareness effort and even more so to know that there is such a wonderful network of people who are regularly working and dealing with this type of trauma. ..."
There was also a nice article about the mural and the dedication in the Philadelphia Inquirer. From this article written by Inquirer Reporter, Joe Trinacria:
...Painted on the side of the Horizon House building, it stands six stories tall and spans 250 feet wide. The mural was painted by more than 1,000 volunteers, many of whom were family members of suicide victims, as well as some who had attempted suicide.

The building houses programs including some for suicide prevention.

"A lot of people at the paint days just really wanted to be around those who have gone through similar circumstances," Burns said. "Our work was a communal effort."

Jane Golden, executive director of the Philadelphia Mural Arts Program, which has about 3,500 murals throughout the city, said: "With this project we built bridges from people who were once feeling isolated to an extensive community of support.

"The mural is almost a form of advocacy itself because people are not just able to feel better through their experience with the art, but the issue of suicide can also become a topic of discussion in the broader community of Philadelphia."

Cathy Siciliano, chair of the American Foundation for Suicide Prevention's board of directors, lost her son, Anthony, to suicide in November 2008. To help her own healing, she painted her son's panel on the mural, a move that would be replicated by dozens of families.

"When the mural first came about, I thought that this could be like our permanent billboard," Siciliano said. "As I became more involved, it was apparent to me very quickly that this was so much more.

"When the paint day was finished, I just stood there in absolute awe of our artwork. It was like you could see that this mural was building a community, a community of healing for each other." ...
While I knew I wouldn't be able to be present for this dedication, I planned to stop by before the dedication to take a few pictures, and return at a later time to take more. When I arrived, I saw workers setting up tents, chairs, a podium, etc. Everything you'd expect to be present at a dedication. But there was more. There, standing or sitting in chairs a few feet from a section of the mural with pictures of victims of suicide, were the family, friends, and other loved ones who have been left behind by those who took their own lives. Seemingly oblivious to the workers setting  up around them, they sat, stood and stared at the mural in silent, painful reflection. 
"Finding The Light Within", by James Burns, a mural artist with the Mural Arts Program, is sponsored by The City of Philadelphia Department of Behavioral Health and Intellectual Disability Services along with the American Foundation for Suicide Prevention. These organizations worked in partnership with the Mural Arts Program on this important project. Finding The Light Within is located on the side of Horizon House, located at 119 S. 31st Street. 
There is also this unique "story telling website" that was developed as a companion to this mural. It's definitely worth visiting. For more information about that site, see this video.

Cathy Siciliano, Board Chair of the  American Foundation for Suicide Prevention (Philadelphia Chapter), has shared with me a video she has made. This video shows not only the life of the mural, but scenes from the dedication ceremony. (Cathy is quoted in the Philadelphia Inquirer article referenced above.)

Addendum:  On 12/15/12, three three months after this mural was dedicated, I was contacted by two amazing women, Barbara Swanston and Chris Crubaugh. Both are mothers who had lost their sons to suicide. Barbara's son, Terry, took his life in August 2010. Chris' son, Ben, took his life in September 2012. (Just 3 days after this mural was dedicated.) Barbara has worked tirelessly as an advocate for suicide awareness and with online support programs for others who have lost a loved one to suicide. Barbara's son, Terry, is one of the people shown on this mural. (Her story is among those in the "story telling website" I mentioned above.) 
Towards the bottom of the photo-grid, you'll see Terry with two golden retrievers. Chris, who credits Barbara's support with giving Chris the strength to continue living since Ben's death, has also begun reaching out to others. As I said--they really are remarkable women, and I was honored that they reached out to me. I know how grateful they are to James Burns, the incredible team of volunteers, Horizon House, and the Mural Arts Program for working so hard  on this mural. In November 2012 Barbara spoke at a conference in Belfast called "Suicide Prevention-What Works?" Barbara's informative, and very powerful presentation can be seen here. I hope you'll take the time to view it.
My dialogue with Barbara and Chris reminds me that there are those who may be visiting this site who have more than a passing interest in this mural. Barbara was kind enough to offer the following resources:  Parents of Suicide/Friends & Family of Suicide http://www.pos-ffos.com and American Foundation for Suicide Prevention  http://www.afsp.org. 
As Barbara and Chris have reminded me--if you know somebody who you are concerned about, please talk to them about it--now. If you know somebody who has had to endure the tragedy of losing a loved one, don't be afraid to speak to them--and be sure to speak the name of the person they've loved and lost. Your friend has never forgotten that they lived.
-Rob