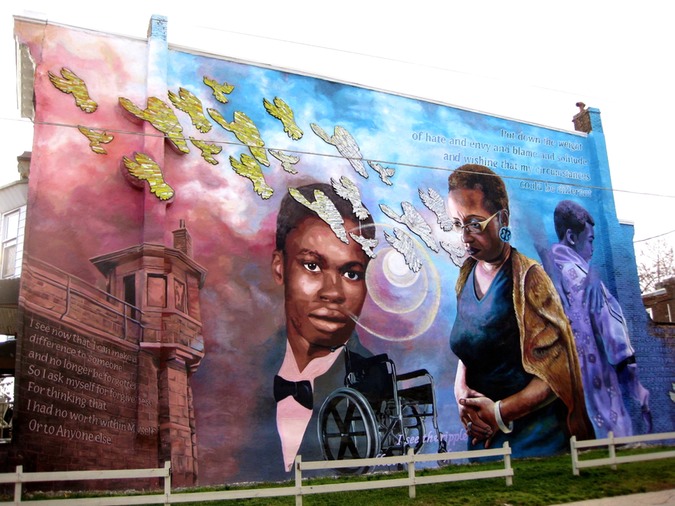 Many of the murals on this site, including the one shown above, "Forgiveness,", were done by muralist Eric Okdeh. If you've gone through many of the pages of this site, you may have noticed many of Eric's murals. (See for instance, the description of the mural "Journey to Remembrance" on the Strawberry Mansion page of this site.) I've always been greatly impressed by not only his murals, but with his commitment to the community, his work with kids, community groups, prison inmates, etc. His work is typical of all that is great about the Philadelphia Mural Arts Program, and the muralists who are involved with this program. (In October 2013, there was a dedication to his mural honoring Social Workers. Several months prior to the dedication, I was privileged to have the opportunity to meet with Eric about this mural as it was in development. You can also see that mural at the bottom of this page.)
Here is the description about the mural "Forgiveness" from muralfarm.org (a now defunct site): 
This project was inspired by the selfless acts of forgiveness by Janice Jackson Burke and her son Kevin Johnson. In 2003 Kevin was shot and subsequently paralyzed over a basketball jersey he was wearing. Through all their hardships they found it within themselves to confront and forgive the attackers. The Mural took over six months to complete. It now brightens the corner of 13th and Erie Avenue in North Philadelphia. Local residents all remember Kevin from the news and many see the mural and its story as a relevant and unique way in dealing with the plague of violence in the city of Philadelphia. ...
There was a great story about Kevin, his mother, and forgiveness in this 2007 article from the Philadelphia Inquirer. Tragically, Kevin died on November 14, 2006, from complications related to his injuries. I've read a lot about Kevin and his mom, and the story told in this mural. I've read it more than once. I still can't read it without shaking my head at this tragic, senseless death--and the amazing ability to forgive. 
-Rob
Murals Shown Below:

Forgiveness:  Eric Okdeh, David Gray, Angela Crafton. 13th Street & Erie Avenue
Tribute to Rev. Leon Sullivan:  Cliff Eubanks. 1445 W. Venango Street.
African Landscape:  Henry Bermudez. 3664 N. 11th Street (on Erie Avenue)
Park on Diamond:  Ana Uribe. 1939 Diamond Street
In Living Memory--Those Of Us Alive:  John Lewis. 16th & Montgomery
Street of Dreams:  Cliff Eubanks. 1333 N. Broad Street
Tribute To Grover Washington:  Peter Pagast. 2032 N. Broad Street
The World Is Yours: Ernel Martinez. W. Clearfield & N. Rosewood
Tribute To Horace Pippin:  Della King (redesign). Broad & York Streets
Peaceable Kingdom:  Charles Hankin. 3107 N. 10th Street
Father's Day Mural:  Sam Byrd. Broad Street & Glenwood Avenue

Above And Beyond--A Tribute To Social Workers:  Eric Okdeh. 1325 W. Cambria Street



Click on the thumbnails to start the slideshow: