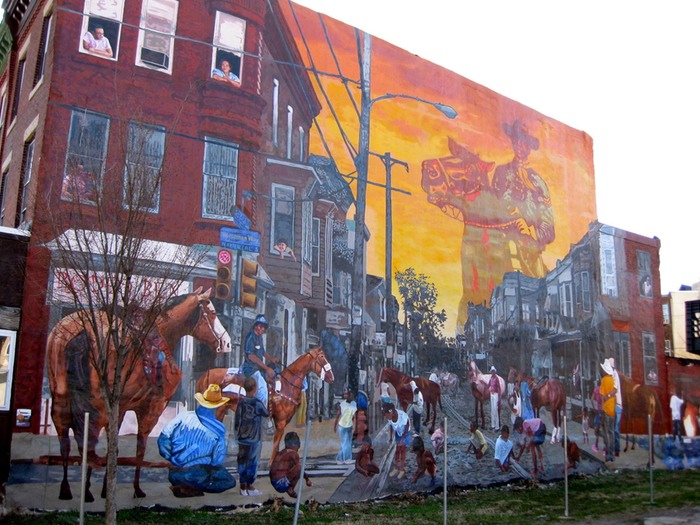 The murals on this page were taken in North Philadelphia and the Strawberry Mansion area. Strawberry Mansion is an area east of Fairmount Park in North Philadelphia. At one point, Strawberry Mansion was an area that was home to many wealthy families--but during the 20th century, it suffered serious economic decline. In the 1950's it was home to John Coltrane. (You'll see a John Coltrane tribute mural below.) I had forgotten that it was also home to horses and "urban cowboys" for quite some time--which explains the "Urban Horsemen" mural. 
The mural entitled "Journey to Remembrance" by Eric Okdeh (who has done many murals seen on this website) is about those infected with HIV and AIDS. Here is the description quoted from the now defunct website I use for a lot of my reference information, muralfarm.org: 

A candlelight vigil was held during Mural Arts Month 2004. This mural helps us to remember those who have died of HIV and AIDS and those battling the disease. The phrase on the mosaic ribbon reads: "Not poverty, nor racism, nor discrimination can prevail when one of us stands in battle against HIV for the love and care of humanity."- Rashida Abdul-Khabeer. The candlelight vigil recedes into the background where the lights fade into the stars. The sepia toned figure above was an AIDS educator and activist with Bebashi up until his untimely passing.
-Rob
Murals Shown Below:
Tribute To Urban Horsemen:  Jason Slowik. 3222 Montgomery Street
Women of Jazz:  Felix Oslemi. 3235 Arlington Street
Tribute To Our Neighbors (Waterfall Gardens):  Simon Hueslback. 2033 S. Etting
Gideon School Project:  Cesar Viveros-Herrera, Jamie Pearlstein, Jamie Battle.  2801 W. Glenwood Ave
Hearing Our Voices-- Insipred By The Work of Faith Ringgold:  Dela King. 1765 N. 29th Street
Tribute To John Coltrane:  John Lewis. 3218 Diamond Street
Promised Land:  Joshua Sarantitis. 3015 Ridge Avenue
Tribute To Malcolm X:  James Burns & Ernel Martinez. Ridge Avenue & W. Susquehanna Avenue
Journey To Rembrance:  Eric Okdeh. 2548 Ridge Avenue
Click on the thumbnails to start the slideshow: