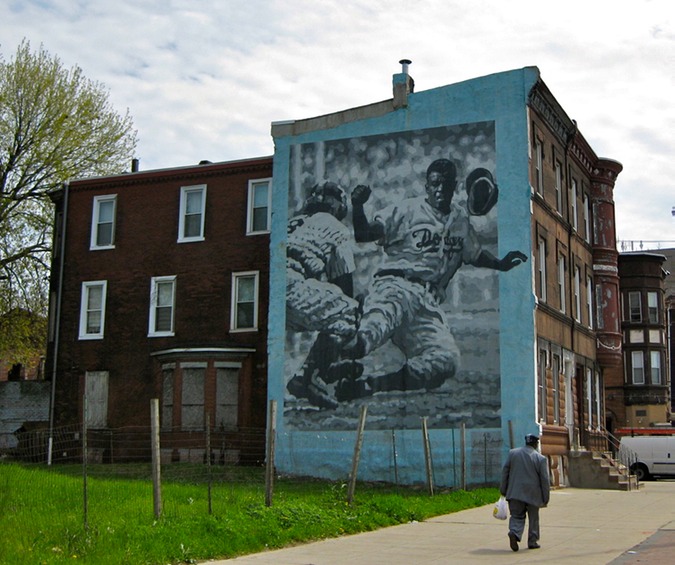 Murals Shown Below:
Tribute To Jackie Robinson:  David McShane. 2803 N. Broad Street

Healing Power of Music:  Parris Stancell. 916 N. 17th Street
Dixie Hummingbirds:  Cliff Eubanks. 891 N. 15th Street
A Celebration of Poetry:  Parris Stancell. 1531 W. Girard Avenue
Celebrate the Arts:  Parris Stancell. 1533 W. Girard Avenue
Artsolutely Awesome North Philadelphia...Yeah!!!:  Marcus Akinlana. 1516 Parrish Street
Education--The Key To The Future:  Parris Stancell. 3814 Germantown Avenue
Tribute to Sonia Sanchez:  James Dupree. 1418 Diamond Street
Hero Center:  John Lewis. 3403 N. 17th Street
Tribute To Dox Thrash:  Eric Okdeh & Calvin Jones. 2242 Cecil B. Moore Avenue

Tribute to Dox Thrash (revisited): Eric Okdeh & Willis Humphrey aka Nomo. 1631 Girard Ave.
In November 2012, the Dox Thrash mural located at 2242 Cecil B. Moore Avenue was "painted over." It was soon determined that this was done as an act of vandalism. In 2015, a new mural tribute to Dox Thrash was unveiled on 1631 Girard Avenue.
Click on the thumbnails to start the slideshow: