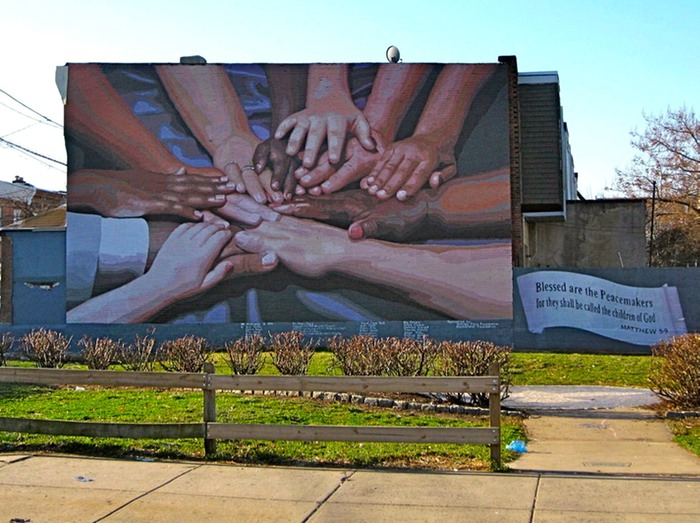 Pictured above, "Peace Wall" is a mural that represents all that is good about the city's Mural Arts Program ("MAP".) Many of us remember the racial tension that plagued that community--especially in 1997. The following excerpt is taken from this site (see the section called "Peacemakers") from the University of Pennsylvania Arts and Sciences (spring 2001) about "The Art of Change." You'll notice that many of the other murals on this page that followed Peace Wall have a similar theme. They all remain "clean" and "untouched" in this diverse community. 
... In the Gray's Ferry section of the city, a working-class and racially mixed neighborhood, Golden had to go door to door, cajoling residents for half a year. The community has a long history of racial strife, and in 1997 residents were divided and locked in a cycle of violence and retaliation that had captured the attention of the national media. MAP went into the area and held art classes in recreation centers, challenging the children to imagine and paint a more harmonious world. After a number of poorly attended meetings, people started to show up at MAP-sponsored gatherings. There was a lot of talk about hands: needing a hand, lending a hand, reaching out. The community agreed that their mural would depict the hands of people from Gray's Ferry. 

Golden recalls the moment at a church when people finally came together to photograph the image that would become a mural. Everyone started reaching toward each other to pose--old and young, black and white. "It was an interesting moment," she comments, "one that I wished we could freeze. There had been such deep animosity, but now people were starting to talk to one another about the mural." The result is Peace Wall. ...
You can read more about Peace Wall in this October 2008 NY Times article by Jon Hurdle.
-Rob
Murals Shown Below:

Peace Wall:  Peter Pagast & Jane Golden. 29th and Wharton Streets
Church of the Redeemer:  Burton Dodge. 24th and Tasker Streets
Common Ground:  Josh Sarantitis. 3001 Dickens Place
In A Child's World:  Donald Gensler. 2948 S. 30th Street
A History Of Gray's Ferry:  Josh Sarantitis and Eric Okdeh. 34th and Wharton Streets
Civil Rights In Education:  Eric Okdeh. 1159 S. 19th Street
Allegory Of A Young Man:  Eric Okdeh. 1722 S. 22nd Street
Morning Landscape:  Cliff Eubanks and Grace Jung.  28th and Wharton Streets
The Bottle Tree Project (aka Sacred Spaces):  Eric Okdeh. 27th & Dickinson Streets
We The Youth:  Keith Haring. 2147 Ellsworth St. (For information about Keith Haring and this mural's restoration, see this article.)
ASpire:  The Dr. Shawn L. White Mural Project: Ernel Martinez. 21st and Ellsworth Street. (See also this article.)
Click on the thumbnails to start the slideshow: