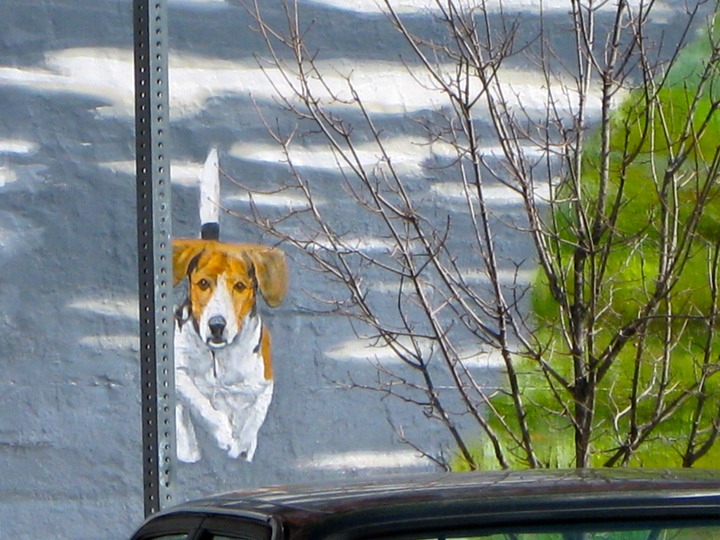 May 2012:  
Let's begin with the title of this page. I had pretty much finished months of redesigning this site, but needed one more page to explain a few other things. "What should I call this page?" It's amazing how much time you can waste trying to decide trivial details, isn't it? So, it occurred to me--stop wasting time, and start typing. "Random Thoughts" became a place holder one Sunday morning. And it just kind of stuck. (Certainly, NONE of these are "Frequently Asked Questions".) This also explains how I chose the picture at the top of the page. Could it be that trying to type with a large, furry (but lovable) golden retriever continuously climbing up on my lap to stare at the monitor or sniff the keyboard had some influence here? (By the way, the dog pictured above is found in the mural "Fairmount Waltz" by David Gordon.) Anyway, on to some random thoughts about this (redesigned) site.
Why change it??  This site was first developed and published in the summer of 2009. The main reason was because I had a taken a bunch of mural pictures and wasn't sure what else to do with them. I wanted to share them with friends, some who live in Philadelphia and others who had relocated. I pretty much just tossed a bunch of my pictures on to a series of pages with very little planning regarding how or where they should be placed. As I took more pictures, I just kept adding more pages. (Occasionally, some pages would have a "theme" to them.) Not that long ago, Apple made the decision to end its support for iWeb--my "website for dummies" program. Since I needed to switch website programs, I figured I might as well redo the whole thing. To me, it was starting to feel "stale" anyway. I figured it would take me a month or so. That was in December 2011. So, here we are in May 2012, and I'm finally getting it finished. (Clearly, I had more pictures of murals than I was aware of, and less time and/or energy to work on this than I counted on.)
So, what's different? Well, aside from the "look and feel" it's laid out differently. I went back and forth on the best way to do it, and decided, for the most part, to try to loosely organize it by neighborhoods. Now, for those of you who are from Philly, or have lived here for any period of time, you'll understand that this is not as easy as it sounds. For those of you not from Philly, you need to know that you can ask 5 people living in West Philly where they live and you might get 5 different answers. So, as I said--it's loosely laid out by neighborhoods. And the fact that some neighborhood pages had a lot more pictures than others also played a role in where some pictures were placed. You really don't need to email me to let me know that a mural I have on the Strawberry Mansion page should be in North Philly. Honest. Really. Zip code directories, census tract listings, or the opinion of your favorite aunt who's lived in Mantua for 72 years--it's really not necessary to send them my way either. There are some mural pages that I decided should "stand alone"—and not be placed within a neighborhood page. You'll be able to find them among the menu items at the top of the page.
Other changes:  Use the drop-down menus near the top of the "gallery menu at the top" to find your way to the various neighborhood photo galleries--or just click on the words "photo galleries ("1 or 2")." On each page of neighborhood gallery pictures, just above the thumbnails is a list of the murals on that page, the artist and the mural location. You can view the thumbnails within each gallery as a slideshow by clicking on the thumbnail of any picture. While in a slideshow, you'll be able to stop the slideshow to view a picture longer, end the slideshow or go backwards. You'll see those options at the very bottom of each picture during the slideshow along side of the caption. At the end of the slideshow, click the little "x" on the bottom right to return to the gallery pages.
As usual, I've not tested this site on Internet Explorer. (Addendum--I did try it on IE 7 and it was brutal. The slideshow does not work and some of the spacing is off.) Try using Firefox or Safari. (Even if you don't have web browser problems, I'd still ditch IE--but I digress... .) I'm not sure how well this site will work with iPads, or smart phones. (To be kind, HTML5 is not my strength.) (ADDENDUM:  actually, it works ok with iPhones--it's just kind of small. Still not sure about iPads. I'll have a couple of friends check it out for me.)
Murals recently added:  For those of you who have visited before, you may not want to go through lots of pictures to just see what's been added recently, I've created this page where I'll keep a list of murals added since the site's redesign in May 2012. (Although, I do hope you'll still take another look at some of the older pictures every now and then.) I will tell you that some of the murals that I've had here for awhile have newer pictures added to them. One example of this is the classic mural, "Common Threads" by Meg Saligman at Broad and Spring Garden. This mural is perhaps the most famous mural in Philadelphia. (It's also the first mural I ever took pictures of.) Very recently, this mural was "restored" and really looked great after the restoration. I went back and took more pictures of it. The picture at the top of the "Welcome" page, as well as the one at the top of the gallery called "Murals Along Spring Garden Street (Broad St to Front Street)" as well as others were added after it was restored. I've added more pictures of other murals that were already here, as well.
"Who is/What was???":  So, a lot of murals are "tributes" to an individual or historical event. Some of the people or events are well known, others not so much. When I could, when I list one of those "tribute" murals, I've now linked it to an external site that gives information about that person or event. It's amazing how much I've learned over time reading about artists like Henry Ossawa Tanner, Dox Thrash, The Fair Hill Burial Grounds, etc.
Thanks again!  To the staff of the Mural Arts Program who have answered questions I've sent their way--Thanks. (Some of their names are listed at near the bottom of the welcome page.) To some of the artists who have answered some of my questions (or in some cases, just contacted me when they've stumbled on this site)--Thanks! To mural artist, John Lewis, who allowed me to take pictures of him as he worked on a mural at 49th and Pine Streets--Thanks! To my wife, Debbie, daughters Lydia and Jess, and friends who occasionally let me know about murals they've noticed that I may not have been aware of or seen yet--Thanks! To my daughter, Jess, who a few years ago told me about the work of mural artist, Parris Stancell, thanks! To so many of the people in the communities who came over to chat with me while I was taking pictures--Thanks! 
To Chris in South Carolina (mother of Ben) and Barbara in British Columbia, Canada, (mother of Terry, whose picture is in the mural, "Finding The Light Within" by muralist James Burns)--Thanks!!  Both of them took the time to contact me about Terry's picture in the mural, and sharing what they've both endured. Barbara's work to raise awareness about suicide, and to provide support to others (such as Chris) who have lost a loved one to suicide has been nothing short of incredible. I'm grateful to them both for contacting me, and for the work they both now do to help others. Barbara was kind enough to provide me with a couple of online resources, which I've added to my narrative on the "Finding The Light Within" page.
Thanks, but no thanks! To the "working woman" who kept trying to get into my car in Germantown when I was trying to take a picture of a Parris Stancell mural from inside my car--Sorry that I had to decline your "offer," and sorry that I nearly ran over your foot when I quickly drove away. 
One More Random Thought (February 2016):  You may have noticed on my "Recently Added" page that I hadn't updated the site with more pictures of murals for about 2 years. This "hiatus" certainly wasn't due to a lack of interest. I'm glad to be able to get out again, and hope to be adding more murals over the next several months.
Once again--be sure to support the Mural Arts Program by sending them a donation, taking a tour (they're a lot of fun), etc.
Contacting me:  Feel free to contact me through the contact form on this site. If you see typos, let me know. If you catch an incorrect address or an artist who wasn't properly credited, for sure--let me know. Also, feel free send me any other comments or questions about this site, the murals I've taken pictures of, etc.
-Rob