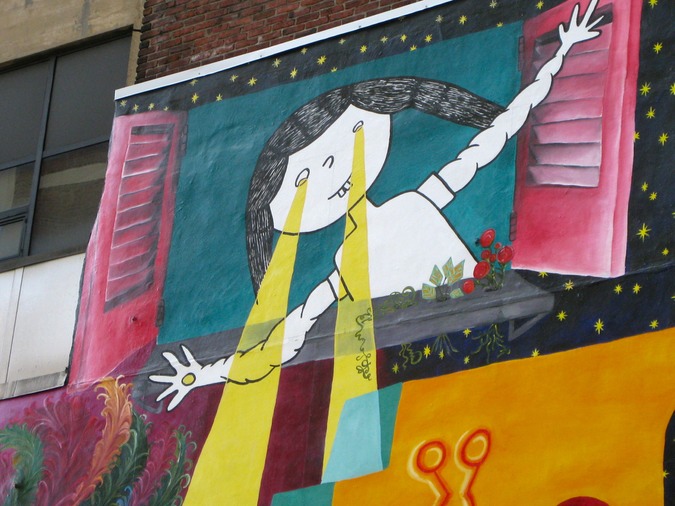 Sometimes I'm driving around and I'll stumble upon a mural at a location that I've driven by thousands of times in the past. One morning in February 2012, I was driving south on Broad Street, and was stopped at an intersection at Broad and Race. I happened to look to the left and saw a mural that I'd never seen before. (I later found it was done in October 2011.) It was bright and colorful and had a great "childlike" quality to it. I came back the next day and took a few pictures of the mural titled "How To Turn Everything Into Something Else." When I came home and had the chance to read about it, I learned that it was done by a group of artists from an art collective called "Miss Rockaway Armada", who along with a group of kids (ages 10-15 years old) from the Mural Arts art education program, created this mural. You can read more about it here.  
-Rob
Murals Shown Below:
How To Turn Everything Into Something Else:  "The Miss Rockaway Armada". 207 N. Broad St.
Secret Book:  Josh Sarantitis. 312 N. 19th Street
Reach High And You Will Go Far:  Josh Sarantitis. 1926 Arch Street
Lifelong Learning:  Donald Gensler. 18th & Callowhill Streets
Breaking Through:  Meg Saligman. 125 N. 8th Street
Commemorating Women In The Visual Arts:  25 N. 23rd St. Michelle Angela Ortiz
History of Immigration:  Simon Huelsbeck. 404 N. 2nd Street
Independence Starts Here:  Donald Gensler. Broad & Race Streets
Gateway To Chinatown:  Josh Sarantitis. 12th & Vine Streets
History of Chinatown-125th Anniversary Committee:  Arturo Ho, Giz, N. Phung, H. Tran
A Thousand Children Playing:  Jane Locke & Tomie Arai. 1034 Spring Street
How We Fish:  Social Impact Studios & Eric Okdeh. 125 N. 8th Street
Unifying the Cultures of Neighoborhood in Philadelphia:  Joseph and Gabriele Tiberino. 15th Street between JFK Blvd and Arch Street (along the Muncipal Services Building.)
The Stamp of Incarceration—James Anderson:  Shepard Fairey. 1131 Callowhill Street
The Stamp of Incarceration— Amira Mohamed:  Shepard Fairey. Race Street (at 15th Street)

Growth of a Metropolis:  Richard Haas & Jon Laidacker. 251 N. 3rd Street.
Click on the thumbnails to start the slideshow: