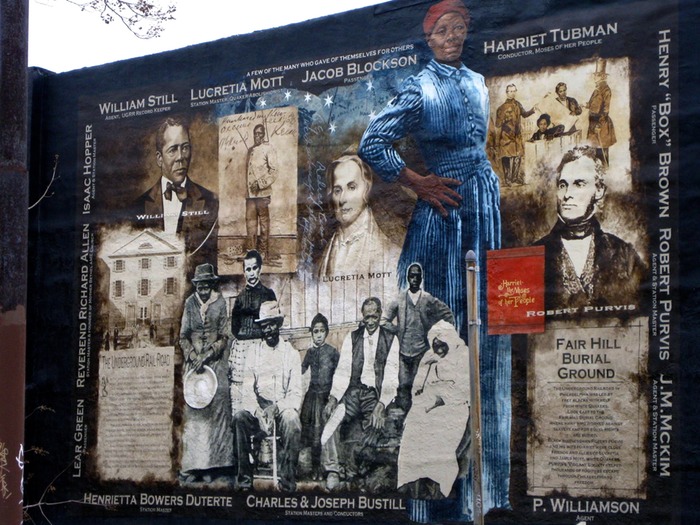 Sometimes if you open your eyes you accidentally learn something. I stumbled across the Harriet Tubman mural kind of by accident--just as I have with many others. The mural is located in a pretty impoverished area (and I'm being kind) of North Philadelphia--Fairhill. I was surprised that this block was so well maintained. Trust me--you don't have to walk more than a block from that mural to see that there was something different about the block with this mural. All that I initially noticed was the mural. I was kind of aware that there was a cemetery right next to me as I quickly took a few pictures of this mural. I paid no attention to the cemetery. 
When I was looking at my first pictures of the mural, I noticed that the lower right corner of the mural had text. (The text on the left is too faded to make out, unless I can get much closer--which I hope to do.) When I read the text I realized that this mural was a tribute to not only Harriet Tubman, but to many others who led the fight against slavery and for equal rights. Not only that--but the cemetery that was next to my car as I took the pictures is in fact the burial ground for many who led this fight. I had to do it.--I got back in my car to take pictures of that cemetery. 
So, in addition to the pictures of the Harriet Tubman mural, you'll find pictures of the Fair Hill Burial Ground, which goes back to 1703. You can find more information about this burial ground here. What's really amazing is how clean and well kept that cemetery and surrounding area remains thanks to the community and the Quaker volunteers. Both groups worked hard with the police to clean up that area of Fairhill. Just down the street from the Harriet Tubman mural is a related mural, "Underground." I've added that mural to this site, as well.
By the way, the pictures of the cemetery are the only pictures on this website not focusing on a mural. It just seemed to fit.
-Rob
Murals Shown Below:
A Tribute to Harriet Tubman:  By Sam Donovan. 2950 Germantown Avenue
A Picture of the Fair Hill Burial Ground which is located at 2900 Germantown Ave.

Underground:  By Calvin Jones. 2902 Germantown Ave.
Click on the thumbnails to start the slideshow: