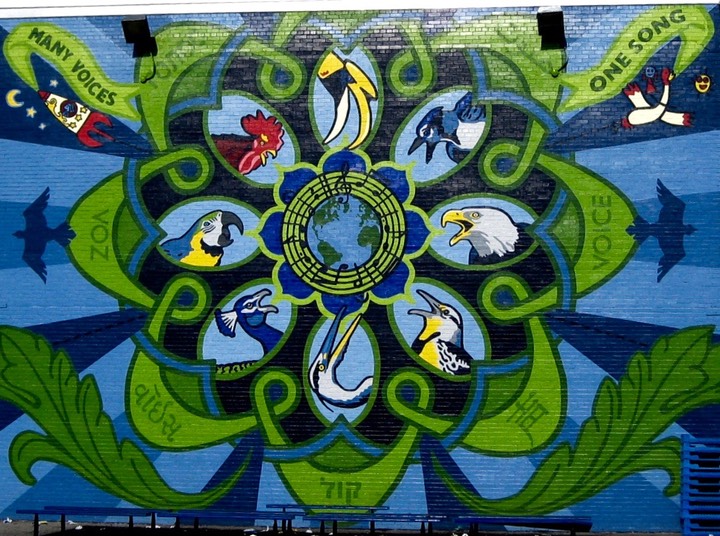 Many Voices One Song:  Beauty and Strength In Diversity
(The Gilbert Spruance / Eagles Playground Murals)
Growing up in the 60's, I attended Gilbert Spruance Elementary School. At that time, it was a K-6 school. Due to the demographics of the neighborhood I grew up in, at that time, the makeup of Spruance was 100% white (until I was in 6th grade), and probably more than 90% Jewish. As a result of "forced busing" which began in the 60's, the school was finally integrated when I entered 6th grade—but only in grades K-5. As many neighborhoods have become more diversified, so did the community surrounding Spruance School—which is now a K-8 school. And it would be hard to find a school whose demographics have changed more than Spruance since the late 60's. 
Beginning in 2014, City of Philadelphia's Mural Arts Program, in partnership with the Eagles Youth Partnership ("EYP") and The School District of Philadelphia, designed and painted "Many Voices One Song:  Beauty and Strength in Diversity." The mural covers much of the exterior of the school—particularly the area of the school's playground. (The EYP provided new playground equipment, synthetic turf fields, landscaping, etc.)
In a description of this mural, lead artist, David McShane wrote:
The Gilbert Spruance School is the largest public elementary school in the Philadelphia School district.  It has over 1400 students and is incredibly diverse – with at least 28 different languages spoken by students and their families. … A school leadership committee was formed, which included students, teachers, and staff and which was headed by Principal Kwand Lang.   This committee wanted the theme of the murals to reflect the diversity that exists within the school.  They pointed out several quotes that they thought were important, including Maya Angelou's " It is time for parents to teach young people early on that in diversity there is beauty and there is strength."  Student leaders from the school's student council liked the idea of having the many languages spoken at the school represented by having the word "voice" represented in different languages.  And so a lot of rich ideas about who and what the Spruance School is were all boiled down to one succinct theme:  "Many Voices, One Song:  Beauty and Strength in Diversity. ..." 
-Rob

Mural Shown Below:
Many Voices One Song:  Beauty and Strength In Diversity (The Gilbert Spruance / Eagles Playground Murals). By David McShane. 6401 Horrocks Street.
Click on the thumbnails to start the slideshow: